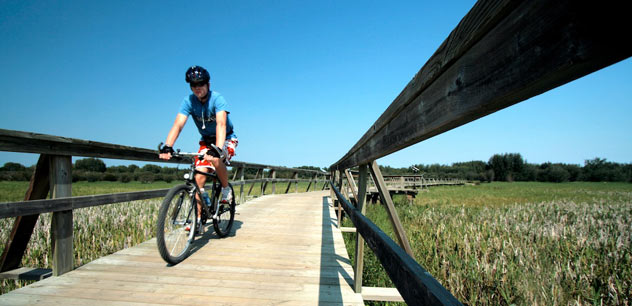 Provincial Trail Map Project
Project Overview
For a detailed view of Alberta's Provincial Trail Maps, click here.
The need for provincial trail maps and a data management system arose from consultation with government and other stakeholders as part of the Recreation Corridors Initiative. Trails approved for designation under the Alberta Recreation Trails Program will be included on maps produced under the Provincial Trail Map Project.
The purpose of the Provincial Trail Map Project is therefore twofold:
To complete a series of 14-16 regional maps of approved recreation trails in Alberta;
To develop a provincial recreation corridor and trails data management system (a provincial trail database).
The project will support and encourage healthy lifestyles and active living through responsible involvement in outdoor recreation. The maps and database will not only benefit recreational users but also local residents, tourists, businesses, industry, landowners and managers, and other land use stakeholders.
Project Scope
The Provincial Trail Map Project will gather information on trails throughout the province to contribute to the development of 14-16 regional trail maps and a provincial trail database for the Alberta land base. Regardless of the extent of trail development within a particular region, a map will be created that captures existing information for that region and allows new information to be added when available. The maps will show permitted uses and activities and the location of approved trails. An "approved" trail is defined as one having landowner/manager approval and an entity responsible for overseeing development, management and maintenance of the trail.
The development of a provincial trail database will enable the sharing and regular updating of map information, and will align with other provincial land use management and planning processes. While the focus is on gathering information on approved trails, the project will also capture information for areas experiencing "unmanaged" or informal recreational trail access. This data will support future land management activities, assist in recreational access planning and design, support public education and access to approved trails, and will help protect government, volunteer and private investments in trails. A public portal will be developed that allows trail users to access a greater level of detail on approved trails than is possible to include on the maps.
Each trail map contains interpretive information about the region such as tourism points of interest, unique natural features, wildlife, the area's history and other recreation opportunities. The maps also provide contacts that help visitors access additional details about the trails and surrounding areas. This information allows recreationists and tourists to maximize their recreational experience while visiting the area. Respect the Land messaging and other information encourages user awareness and promotes involvement in ensuring safe, responsible behaviour and respect for other users, for the trail, and for the environment.
Governance
This project is a partnership between not-for-profit groups and the Government of Alberta. The Provincial Trail Map Project Steering Committee includes Alberta Tourism, Parks and Recreation, Alberta Sustainable Resource Development, Alberta TrailNet Society, Alberta Snowmobile Association, with other provincial trail user associations and stakeholders providing input to the project.
Alberta TrailNet Society chairs the Steering Committee and has responsibility for administering and delivering the project. The success of the project is very much based in partnering with other stakeholders as we move ahead with this extremely ambitious project.
Expected Outcomes
The Provincial Trail Map Project provides Albertans with:
access to information on approved trails where they may pursue their chosen activity: hiking, ATVing, cycling, horseback riding, snowmobiling, cross-country skiing or the many other activities that occur along trails such as picnicking, photography, fishing, birdwatching, etc.;
a better understanding of the type and quality of experience they can have on and along the trail;
access to information that supports improved health and quality of life, encourages active living, and provides diverse recreational opportunities;
access to information that promotes shared responsibility, a stewardship ethic and respect among users;
more informed, responsible and aware trail users;
improved safety.