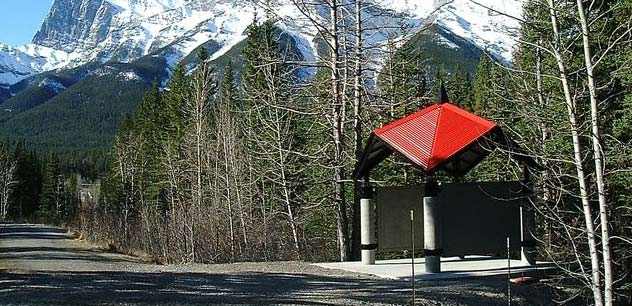 TCT Pavilions and Markers in Alberta
The Trans Canada Trail has built 86 pavilions and trail markers across Canada containing the names and messages of donors and funders. There are six pavilions and markers in Alberta, located in: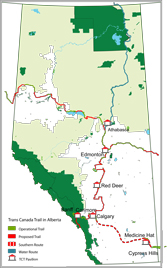 Athabasca – Pavilion is located in Riverside Park.
Calgary – Pavilion is located in Calgary's downtown along the south side of the Bow River between 1 st W and 2 St. W.  Pavilion is south of Prince's Island Park.
Canmore – Pavilion is next to the Mineside TrailHead on the Three Sisters Pathway.  Trail is near Rundle Drive and the Bow River.
Edmonton – Pavilion is being safely stored by the City of Edmonton until construction of LRT bridge at Louise McKinney Park is complete.
(Pavilion is located in the Louise McKinney Park (south of the Shaw Conference Center) along the north side of the North Saskatchewan River right next to the Cloverdale Foot Bridge.)
Medicine Hat – Pavilion is located in Strathcona Island Park by the water.
Red Deer – Pavilion is located in Bower Ponds Great Chief Park near the Cronquist House.
Click here to view a PDF of the Alberta map.