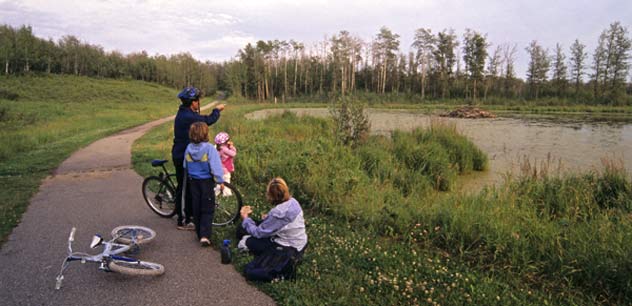 Youth Education, Safety and Stewardship Program
Trail safety, user behaviour, respect for other users and good stewardship practices are key to ensuring user safety, a sustainable trail system and enjoyable experiences while out on trails. Trail users, regardless of age, activity or experience, have a primary responsibility for their own behaviour and safety on trails. To support this, it is important to promote and encourage responsible, safe and sustainable trail activities for all users. Education regarding the appropriate use of off-road motorized equipment on recreation trails is an important component of the provincial trail network and an Alberta Recreation Trails Program.
A trail education, safety and stewardship program for elementary, junior high and high school students has been developed and is critical to developing lifelong habits of proper trail etiquette, safe operation of off-road vehicles and protection of the natural environment in both summer and winter. This program has a curriculum that includes an understanding of equipment being used, describes the techniques, challenges and best practices for operating off-road vehicles in a safe and environmentally sensitive fashion, and also encourages appropriate trail behaviour and respect for the natural environment.
Alberta Snowmobile Association and Alberta Off-Highway Vehicle Association are currently delivering the program on a testing basis. The program is being tested in schools for implementation into school curriculum and for use at other appropriate events or opportunities in Alberta. An easy-to-read, graphically illustrated, in-depth resource document, student workbook, teaching video supports and other program elements are part of this project. These materials are not yet available for public distribution.

Source: Alberta Tourism, Parks and Recreation