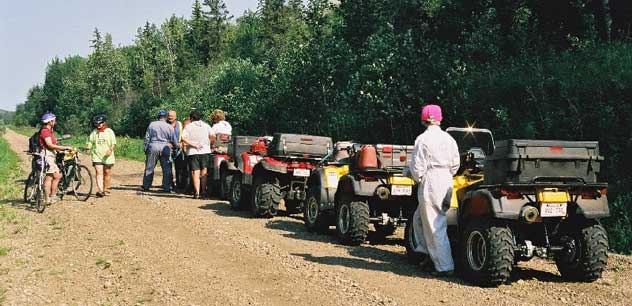 Trail Etiquette/Respect the Land
Respect the Land
Recreational users cherish the privilege of enjoying hobbies, sports, and recreational and leisure activities in Alberta's parks and on public lands. Responsible use and the practice of good stewardship and respect for the land protects our access to these areas, preserves the integrity of the landscape, minimizes conflicts between users and ensures future generations can enjoy the same opportunities. We share the responsibility of minimizing disturbances to the landscape, vegetation, wildlife, waterways and to other users of the land.
Trail Etiquette and Safety
Be a leader and ambassador for your favourite outdoor activity. Join the many hikers, cyclists, horseback riders, cross-country skiers, off-highway vehicle users, snowmobile enthusiasts and other recreationists who proudly take a stewardship role by:
knowing and abiding by applicable regulations and trail signs
staying on designated trails and restricting use to approved activities
sharing trails with courtesy and respect – wheels yield to heels; heels yield to horses. Motorized users should pull over to the right side of the trail, turn off the engine and remove helmets when horses are approaching.
respecting landowners by leaving gates and fences as found and avoiding livestock
leaving artifacts and natural features undisturbed
controlling pets and keeping them on-leash
properly disposing of all waste in provided facilities and following the pack-in, pack-out philosophy
avoiding the spread of invasive species by cleaning recreation equipment (vehicles, tents, packs, boots, etc.) after every trip and using certified weed-free feed for pack animals
minimizing the threat of wildfire by ensuring flammable debris is kept away from OHV exhaust systems, and by keeping campfires small, contained and in designated areas and ensuring they are fully extinguished
respecting wildlife by observing from a distance and properly managing food and garbage
avoiding recreation use during sensitive times (e.g., wet conditions, wildlife mating and rearing seasons) and in sensitive areas (e.g., watercourses, stream banks, wetlands and alpine areas)
ensuring motorized vehicles are licensed and insured, and that all vehicles and equipment are operated with care
wearing an approved helmet for your particular activity
actively participating in local club and trail stewardship programs
For caving etiquette and safety, visit www.caving.ab.ca/safety_and_manners.
For avalanche safety, visit www.avalanche.ca
For more information on responsible recreation and stewardship opportunities, contact Alberta TrailNet or visit esrd.alberta.ca.