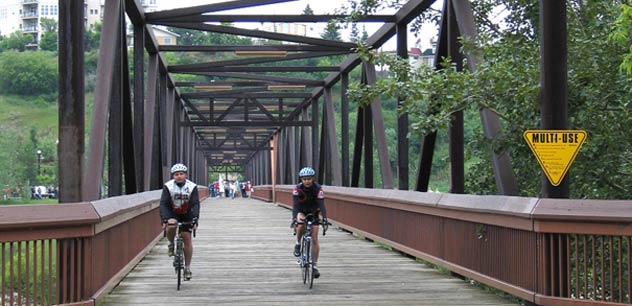 Active Transportation
Active transportation (also called non-motorized, human-powered or walk/bike transport) includes travel modes such as walking, cycling, skating, skiing and manual wheelchairs.
Active transportation can provide a variety of benefits to individuals, businesses and governments, particularly when it substitutes for motorized travel [i]. Active transport improves physical fitness and provides additional benefits [ii] such as:
Congestion reduction
Road and parking facility cost savings
Transportation affordability and consumer cost savings
Improved mobility options, particularly for non-drivers
Improved community livability (improved local environmental quality, which can increase local property values and business activity)
More efficient land use (reduced sprawl)
Increased public transit ridership (since most transit trips involve non-motorized links), leading to additional reductions in automobile travel
[i] Todd Litman, Economic Value of Walkability, Victoria Transport Policy Institute, 2002.
[ii] Todd Litman, Quantifying the Benefits of Non-Motorized Transport for Achieving TDM Objectives, Victoria Transport Policy Institute, 2000.
Not only just an option for people living in large metropolitan cities, active transportation has now become a part of life far beyond the urban centre, as shown by the article, Active Transportation Beyond Urban Centers, on the Rails-to-Trails Conservancy website.
Active Transportation for Health and Fitness
Public health officials are increasingly alarmed at declining physical fitness among the general population, which increases medical problems such as heart disease, stroke and diabetes. There are many ways to be physically active, but most sports or exercising in a gym require special time, money and skill, which discourage people from participating regularly over their lifetime. Many experts consider active transport the most practical way to improve public fitness for the general population.
More active transportation is important for children's physical and social development. Children are particularly vulnerable to vehicle pollution illnesses and traffic crash injuries. An increasing portion of children are overweight and insufficiently active. Walking and cycling give children independence, which contributes to their social and psychological development, and children's travel patterns can create lifelong habits: children who walk and bicycle are more likely to use these modes as adults.
Children and Mobility, Centre for Transport Research, Roskilde University, Denmark.
Helmut Holzapfel, "The Outside World as a Learning Environment: Perspectives From Child-Oriented Town Planning," World Transport Policy & Practice, Vol. 6, No. 4. 2000, pp. 5-7 (www.ecoplan.org/wtpp).