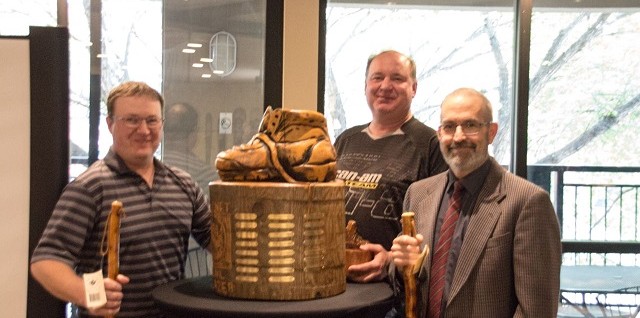 Recognition and Awards
THE TRAIL BLAZER AWARD
Each year at its Annual General Meeting, Alberta TrailNet awards the provincial "Trail Blazer Award" to an individual who has made significant contributions to, and demonstrated long-standing commitment and involvement in, trail planning and development in Alberta. In selecting the recipient, Alberta TrailNet recognizes that this person's accomplishments are often supported and reflected by the contributions, commitment, and achievements of other trail builders and supporters within that community.
The Trail Blazer Award, created by sculptor Rick Silas, is a beautiful, hand-carved, large wooden boot on a tree stump that features the names of the award winners engraved on brass plates. Each award recipient receives a smaller hand-carved wooden replica of the Trail Blazer Award made by sculptor Ilb Rasmussen.
Alberta TrailNet has proudly presented this award since 1997 and congratulates all past and present winners for their outstanding efforts:
Jeannette Richter (2023)
Sturgeon County (2022)
Jeff Eamon (2021)
Alf Skrastins (2020)
Woods & Water Recreational Trails Association (2019)
Wayne Marshall (2018)
Peter Barr (2017)
Phil Lodermeier (2016)
George Wayne (2015)
Eric Lloyd (2014)
Jerry Bidulock (2013)
County of Lacombe (2012)
Richard DeSmet (2011)
David McClement (2010)
Louise Sherren (2009)
Don Cockerton (2008)
Glen French (2007)
Louisa Rich (2006)
Don Gardner (2005)
Robert Bouchard (2004)
Jeff Gruttz (2003)
Norm Froom (2002)
Sandie Anderson (2001)
Rob Gardner (2000)
Lloyd Lohr (1999)
George Gordon (1998)
Douglas Campbell (1997)
Trail Tracker Award
New in 2018, this award is presented for significant contribution of time and effort to improve and achieve ATN mission and objectives especially on specific trails.
2023 Winner Irricana Lions Club – Irricana Trail and playground
2022 Winner Meadowlark Trail Society – Meadowlark Trail
2021 Winner is Marianne Janke – Alberta's Iron Horse Trail
2020 Winner is Tina Northwest – trail from Maskwacis east along Highway 611 towards the Battle River.
2018 Winner is Danny Smyl – Alberta's Iron Horse Trail and other local and regional trails in his area.
TRAILNET'S AWARDS
2010 – The Provincial Trail Map Project, a key TrailNet initiative, received American Trail's National Trails Award for Trails Advocacy in November, 2010.
2008 – Alberta Tourism Awards. The Northeast Alberta Trails Map Project won Travel Alberta's "Friends of Tourism" Alberta Tourism Award (ALTO). The award recognizes an organization that, through its activities, has made a significant contribution to the provincial tourism industry.