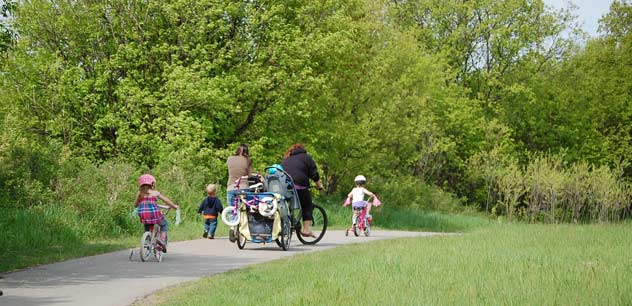 Children in Nature
Alberta TrailNet Future Trail Builders Competition
Contest Closed as of July 1, 2020
Description
Alberta TrailNet wants YOU to get thinking about trails while spending time at home! We are looking for Future Trail Builders to show off their creativity by designing and building a trail at home – either inside or in your yard. Trail Builders can use any materials at their disposal, including blankets, drawings, cardboard, LEGO®, dirt, popsicle sticks, string, Hot Wheels® tracks, or anything else! Four (4) prizes of $200 each towards outdoor recreation equipment will be awarded based on creativity, trail 'usability', and your trail description, which will be judged by an appointed panel. While prizes will only be awarded for specified age groups in Alberta, Trail Builders from anywhere in the world and of all ages are welcome to share their masterpieces via social media by using the hashtag #iamatrailbuilder and tagging @AlbertaTrailNet. The Contest runs from June 6th, 2020 until July 1st, 2020. Entries must be emailed to Alberta TrailNet (trailnetcontest@gmail.com) as either a video or picture, and eligible entries will be displayed on Alberta TrailNet social media accounts. All participants will receive a certificate to acknowledge their efforts and participation in the contest upon entry.
Eligibility
Anyone is welcome to share their trail with Alberta TrailNet or through social media using the hashtag #iamatrailbuilder. Eligibility for prizes is restricted to residents of Alberta within the following age categories:
Ages 3 – 6
Ages 7 – 10
Ages 11 – 13
Ages 14 – 16
No more than one entry per child. A completed contest entry form and release waiver must also be attached in the email. These can be found here.
 All entries must include:
A photo/video of your trail
A completed Entry Form
A completed Media Release Form
Contestants are not required to be included in any photos or videos of their trail, and faces can be blurred in order to protect Contestant identities. Information gathered from the Entry Form will be used on Alberta TrailNet social media accounts and promotional media. No full names (first names only) or locations of Contestants will be released. No information will be provided to third parties.
 Start Date
June 6th, 2020 (National Trails Day)
 End Date
July 1st, 2020 11:59 p.m. MST (Canada Day)
 Prizes
$200/winner to go towards the purchase of outdoor recreation equipment. Alberta TrailNet will work with Contest Winner(s) and local outdoor recreation shops to purchase gift cards for use by the Contest Winner(s).
 Additional Comments
A panel of judges appointed by Alberta TrailNet will judge entries on:
Creativity
The 'usability' of your trail
Your trail description and name
'Excitement' level of your trail
NO PURCHASE IS NECESSARY TO ENTER OR WIN. A PURCHASE DOES NOT INCREASE THE CHANCES OF WINNING.
See below for an example of a trail made by one of our future trail builders, Benson, to help launch the competition.

Family Fun Trail Activities
Alberta TrailNet has developed some fun activities for families to enjoy as the weather heats up. Print out the activity pages below and start your adventure.
These activities are provided to encourage outdoor activity and safe trail practices. There are no formal prizes or competitions organized by Alberta TrailNet in conjunction with printable Family Fun Trail Activities, but we would love see you out on the trails. Share your trail adventures and your sightings with us on social media at @AlbertaTrailNet and use #ABTrails .
Be sure that you are taking all of the proper safety measures when going out on the trails. Follow safety measures and precautions put forward by the Government of Alberta and Alberta Health Services to prevent the spread of Covid-19.
The following information supports safe recreation practices for when you are on the trails:
Stay home if you exhibit any symptoms of illness.
Follow physical distancing guidelines.
Carry water, hand sanitizer or disinfecting wipes to further protect yourself and wash or sanitize your hands frequently. Do not touch your face.
Tell someone in your household where you're going and how long you plan to be gone. Take a cell phone with you so you can be contacted or contact others if needed.
Thoroughly wash your hands on returning home.
More on Children in Nature
Trails provide important opportunities for children and their families to access, experience and learn about nature. Our failure to ensure that children have rich connections with nature has led to what Richard Louv, author of Last Child in the Woods and founder of the Children and Nature Network, terms Nature Deficit Disorder. Louv points out that a generation growing up with little or no experience in the natural world is exhibiting exploding rates of psychological and physical problems.
All too often, we prescribe new medications rather than fresh air. Yet nature can be even more powerful than pharmaceuticals in treating Attention Deficit Hyperactivity Disorder (ADHD), clinical depression, obesity and other near epidemic diseases. The challenge to act resides in all of us. We need to find creative and engaging ways to capture the interest of children and their parents in the magic of the natural world. We need to toss these ideas out to communities, where they can help them grow and flourish.
"Our society is teaching young people to avoid direct experience in nature. That lesson is delivered in schools, families, even organizations devoted to the outdoors, and codified in the legal and regulatory structures of many of our communities. Our institutions, urban/suburban design, and cultural attitudes unconsciously associate nature with doom, while disassociating the outdoors from joy and solitude. Well-meaning public-school systems, media, and parents are effectively scaring children straight out of the woods and fields. In the patent-or-parish environment of higher education, we see the death of natural history as the more hands-on disciplines, such as zoology, give way to more theoretical and remunerative microbiology and genetic engineering. As the young spend less and less of their lives in natural surroundings, their senses narrow, physiologically and psychologically, and this reduces the richness of human experience. Several studies suggest that thoughtful exposure of youngsters to nature can even be a powerful form of therapy for attention-deficit disorders and other maladies. As one scientist puts it, we can now assume that just as children need good nutrition and adequate sleep, they may very well need contact with nature."
– Richard Louv, Last Child in the Woods
Source: Alberta Recreation and Parks Association – Children in Nature: Report from the Dialogue on Children in Nature – Alberta Edition
Website Links
Source: Alberta Recreation and Parks Association