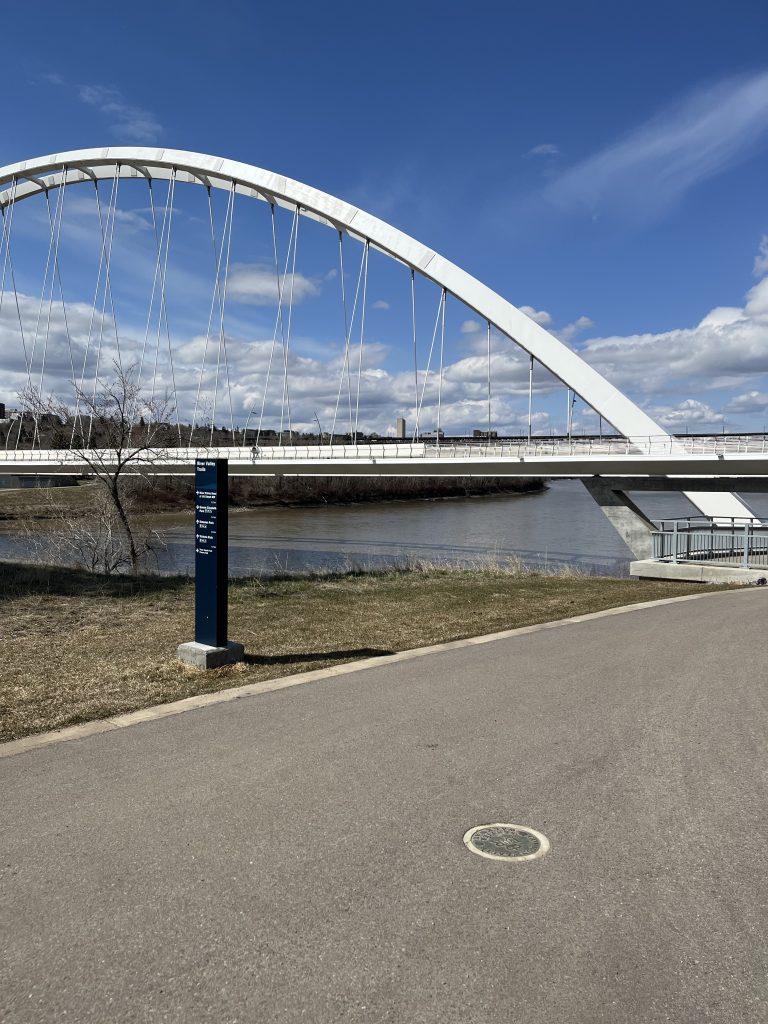 By Sheila Thompson
The heart of Edmonton's trails, from Government House Park to the Funicular, is triple blessed. It is part of three important systems: the Trans Canada Trail which reaches from Atlantic to Pacific to Arctic shores; the River Valley Alliance "Primary Trail" which follows the North Saskatchewan River from Parkland County and Devon in the west to Sturgeon County and Fort Saskatchewan in the east; and now, the Commonwealth Walkway which marks Her Majesty Queen Elizabeth's Platinum Jubilee, 70 years on the throne.
The Commonwealth Walkway spans 82 countries and 100 cities with over 1000 km of pathways and over 2000 stops along the way. Each point of interest has a gunmetal-bronze medallion bearing Queen Elizabeth's monogram and crown. Visit their website and click on any icon, for instance, Nairobi, Kenya, or Sydney, Australia. You'll find a detailed route map with commentaries for each marker. Now, that's a trail system! https://www.commonwealthwalkway.com/
Edmonton's Commonwealth Walkway was spearheaded by now-retired The Honourable Lt. Gov. Lois Mitchell. The first medallion was unveiled by Her Royal Highness Princess Anne on November 6, 2018. The official opening was September 7, 2019. There are thirty points of interest along a route from Government House to the Funicular, with some side trips in between. There is also an interactive app which can be downloaded at https://www.edmontoncommonwealthwalkway.com/ . As you follow the route, choose from 100 stories on five themes: River – History – Indigenous – Family – Winter. By selecting one section at a time, one could spend the entire summer getting to know more about Edmonton.
The official celebrations of Her Majesty Queen Elizabeth's remarkable 70 years as Monarch occur June 2 – 5. As Edmontonians, we have the opportunity to join a living legacy on the Commonwealth Walkway. Rock your best Queen Elizabeth look. Would that be a flower hat and gloves, or wellies and a headscarf? Have your kids decorate their bikes and go for a ride. Walk your corgis. Lead a parade with your bagpipes. Walk with history at your back and nations by your side. Enjoy the journey.